Charlot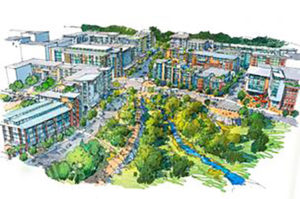 te Business Journal, Ashley Fahey, August 27, 2018
Charlotte-based developer Crescent Communities is donating land at its master-planned project in west Charlotte for affordable-housing development.
During an announcement on Monday at Foundation For The Carolinas, which created a Housing Opportunity Investment Fund in May to finance affordable housing in Charlotte through the private sector, Crescent said that it would gift 4.5 acres (valued at $2 million) to build 124 income-restricted apartments at River District, a mixed-use development encompassing 1,400 acres in west Charlotte. Charlotte-based Laurel Street, which builds mixed-income housing, will develop the affordable units at River District.
"We're making affordable housing an integral part of the very first phase of the community," said Todd Mansfield, CEO of Crescent. "We wanted to have it in the first phase so that it's very clear that the community is all about inclusion."
The housing, part of a mixed-use portion of River District, is expected to break ground in 2020, with units ready for occupancy in 2021, Mansfield said. A site plan indicates 53,000 square feet of retail, 19,000 square feet of office, 606 multifamily units, 60 townhouses and 35 single-family residential lots, in addition to a working community farm, are planned for that initial development phase of River District, at the intersection of the future West Boulevard extension and Dixie River Road.
River District, situated between Charlotte Douglas International Airport and the Catawba River, is expected to include up to 8 million square feet of office, 500,000 square feet of retail, 1,000 hotel rooms, 2,300 single-family homes and 2,550 multifamily units, to be built over several decades. Crescent is developing River District with another Charlotte developer, Lincoln Harris, and the firms intend to preserve 550 acres of the site.
Elizabeth McMillan, director of development at Crescent, said the West Boulevard extension and improvements to Dixie River Road, including adding bike lanes and multi-use paths, will be worked on over the next year, before the first real estate phase breaks ground in 2020. The farm will have a connection to the commercial piece and all uses will be integrated, she continued.