The Charlotte Post, Herbert L. White, August 22, 2018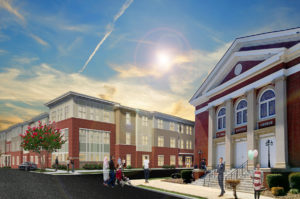 Homecoming has a double meaning at St. Paul Baptist Church.
Next week's annual celebration of faith coincides with the ribbon cutting of Centra Square, a mixed-income neighborhood in the Belmont neighborhood. The 112-unit affordable housing community will be dedicated Aug. 29 as part of St. Paul Baptist's annual homecoming week celebration. The ceremony will take place 11 a.m.-1 p.m. at the Ray of Hope Building, 1401 Allen St.
The multi-family and senior housing neighborhood broke ground in 2016 as a partnership between St. Paul Baptist, Zechariah Alexander Community Development Corporation and Laurel Street Residential. The city of Charlotte contributed $4.4 million to the project, which encompasses 3.5 blocks owned by St. Paul and include a 40-year affordability restriction for working-class and low-income residents. The neighborhood includes a 60-unit senior housing building, 29 townhomes and 23 garden-style apartments with amenities that include outdoor sitting areas and playground, fitness center and covered picnic area. Its proximity to mass transit makes the community accessible to transportation options and work.
"The main reason it's such a big deal is the number of units it adds to [addressing] the deficit in affordable housing units," said George Dunlap, a Mecklenburg County commissioner and chairman of St. Paul's board of directors. "I think St. Paul as a whole is pleased that we can add 112 units to [narrowing] that deficit."
Increasing Charlotte's affordable housing market has become an urgent cause as the city grapples with gentrification that is pushing working-class and lower-income residents out of urban core neighborhoods due to spiking home prices. Upheaval is part of St. Paul's history – the church was forced to move in 1969 when the all-black Brooklyn neighborhood was razed as part of Charlotte's urban renewal initiative.
"It's a …project that's an extension of St. Paul reaching outside the church to do mission in the community," said Gwen Garnett, president of ZACDC. "Our pastor emeritus, Gregory Moss, this was his vision to develop affordable housing, so I'm glad that the church, even 19-20 years ago, was smart enough to start buying land surrounding the church when it became available because otherwise it would be unaffordable today."
Applicants who earn no more than 60 percent of the Charlotte area's median income – $37,050 for an individual – qualify for Centra Square, where rents range from $510 to $825 a month depending on household size. The first residents moved in last month and there's a waiting list for the units, which resemble St. Paul's architecture as well as craftsmanship style of housing in the community.
"This is an example of the substantial need in Charlotte," said Dionne Nelson, Laurel Street principal Dionne Nelson, whose company redeveloped the former Boulevard Homes into The Renaissance, a mixed-income community in Center City. "These units help address the affordable housing crisis in Charlotte by adding much needed new units to the community's supply. …Centra Square offers long-term affordability to allow existing residents of Belmont the community to stay in their neighborhood."
Centra Square is funded by public and private sources, including the church, community development corporation, the North Carolina Housing Finance Agency, Charlotte Housing Trust Fund and Bank of America.
The Allen Street development is an example of what partnerships can accomplish to boost social capital in low-income neighborhoods, Dunlap maintains. The black church, historically a bastion of progressive initiatives, can be a force for change in a city struggling with economic inequality.
"One of things that I know, particularly in the African American community, is they have a lot of assets when it comes to land," he said. "That is something we're kind of rich in, and I've heard of other churches considering similar type projects, which I think is a real great idea."