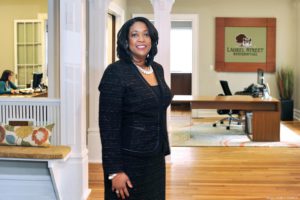 Dionne Nelson leads charlotte development company devoted to affordable housing
Charlotte Business Journal, Bea Quirk, February 14, 2014
At Laurel Street Residential, Dionne Nelson has the opportunity to extend one legacy while creating another.
The nearly three-year-old company is an offshoot of the affordable-housing arm of Crosland. That company was Charlotte's largest homebuilder for decades. Chief Executive John Crosland Jr. financed Laurel Street's 2011 startup and remains involved, while Nelson is managing partner.
"He has a lifelong commitment to affordable housing, and he changed the industry in North Carolina," she says. "I am now carrying that spirit forward. The company exists, in part, to create social equity in housing and have a positive social impact on the community."
Nelson, 42, spoke with the Charlotte Business Journal about the company:
What does Laurel Street do?
I describe us as a mixed-income, residential-development company doing multifamily development that serves households of varying income levels through various product types.
Some aren't subsidized at all, and the rents are market-driven. Others might be subsidized through tax credits, federal loans or money from groups like the Charlotte Housing Trust Fund.
The subsidies help us build these units at the same quality as nonsubsidized units.
We are a for-profit company, although the amount of our profit is often regulated or dictated by the agency providing the subsidies. They allow us to have a reasonable profit.
I call Laurel Street a for-profit social enterprise. I'm a believer that you can do business and do good.
What are some of your projects?
Working with the Charlotte Housing Authority, we're in the middle of a three-phase, $20.9 million Hope VI redevelopment at the former Boulevard Homes, now torn down. The first stage was 110 units for seniors that are now 100% occupied. Another 74 units — for families — will become available this spring. In 2015, another 150 units, also for families, will come on line; 60 of them will be market-rate units with no rent subsidies.
Since spring 2011, we have finished 282 units in three projects in the Southeast and have another 800 in the pipeline in Belmont, Salisbury and New Bern. We did 72 affordable units for seniors in Belmont with the monastery at Belmont Abbey, and we're considering a second phase of nonsubsidized units.
How do you put the financing together for a project?
Typically, we'll have three to five sources of funding for the same structure. You have to layer them so that the product is compliant with each funding program and still respond to market demand. We have a traditional commercial real estate loan on every project, and we are the sole guarantor. To obtain subsidies, we compete with others, and there are now more projects chasing after the same pool of dollars. We also have excellent partners, especially Bank of America and Fifth Third Bank.
How big is your company?
We have a net worth of about $2 million. We don't just have to make profits, but we have to guarantee tens of millions of dollars in project loans; investors and lenders have to have confidence in our ability to deliver our work. Our average unit costs about $120,000 to build, and our average project has 80 to 100 units.
Why the name Laurel Street Residential?
I grew up in Columbia (S.C.), where I spent a lot of time with my great-grandmother. She lived on Laurel Street. The values I learned there are the basis for the vision I have when developing homes for our residents — hard work, integrity, kindness. And I see the modest homes and tree-lined streets where everyone knew each other.
I have lifelong ties to real estate. My family had a brokerage company, and I had my Realtor license when I was 19. I graduated from Spelman College and then followed a corporate career path, although I loved real estate. It was a journey of grace that led me to Crosland and finding a way to connect the two.
Click here to see the original article in the Charlotte Business Journal.